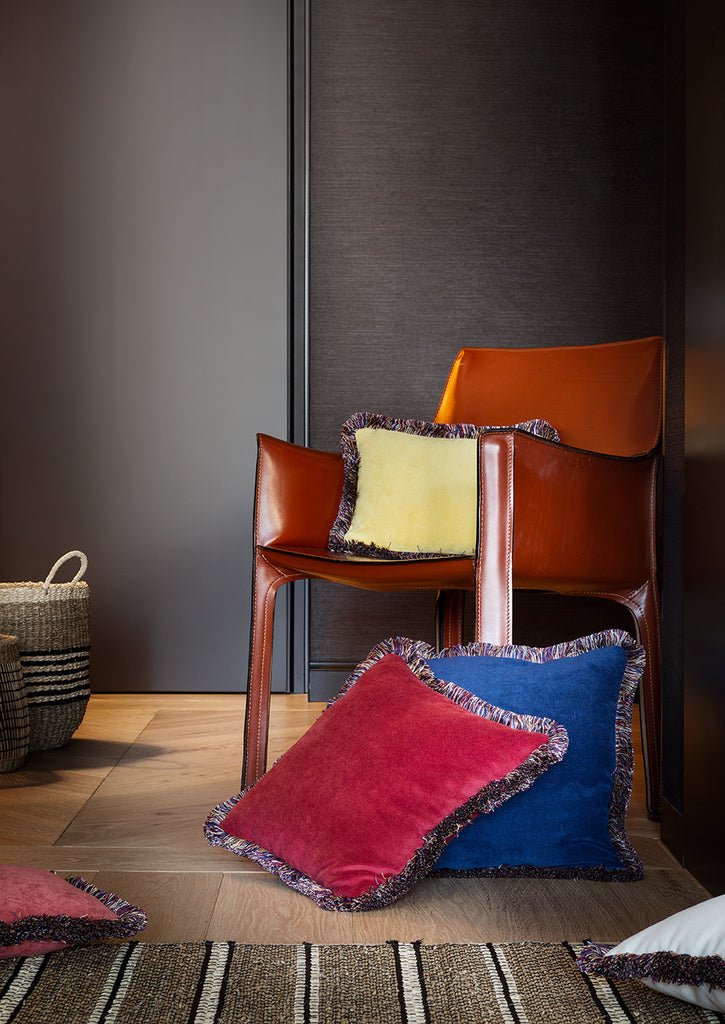 I find that I often use the word passionate to describe Italians, especially those in creative roles! Actually, I think they are highly talented to get people inspired because they have this capacity to stand out of the crowd through their originality, personality and talent and this is exactly what makes me so passionate. 
A few years ago, I found out LO Décor brand by Lorenza Briola. She is a fully accomplished interior designer who found out an amazing material while working for a customer. You must wonder what kind of surprising material? A super versatile velvet !  With this one fabric she has built a collection of cushions that are innovative and are marked by simple versatility and charming hues that are easy to mix and match.
How did I meet her? Actually, I first met Lorenza at Maison Objet in Paris two years ago.  Her booth was modest in size, but packed with personality, which totally made the difference to catch my eye.  So few styles, but so many color combinations and room for customization. It took me one simple second ( time to touch the fabric) to be immediately convinced!
The material is Made in Italy and the cushions are cut & sewn nearby to her showroom in a town close to Lake Como.
The collection is built upon three cushions and two mini-collections. 
The first cushion is known as the Happy cushion. The velvet is trimmed with a fringe, an easy style but very impactful. The fringe can be matching the cushion color, or tonal (close to but not matching cushion color exactly) or even a multi-color contrasting fringe. I like grouping these cushions  with the same color or similar tones, it looks really great! The Happy cushion also comes in bright colors. You can find many photos on our website that help show you how to coordinate the colors.
Do you wanna know more about the rest of the collection? All right, I can share some more with you. The second cushion is named the Happy Frame.   It has a contrasting color piping (or frame) all around the cushion. All the styles with contrast piping on DetailsbyMrK have been coordinated for you.  Mix & match opposites or just pick up your favourite solid!
A bit more? The last cushion, called Tone on Tone Velvet cushion, is really wonderful! it's a bit the same as the Happy Frame but with a matching color piping. It's a modern classic,  great on it's own or mix with any LO Décor style or even coordinate with the many patterned and printed cushions on our website.
What about the two mini-collections? I'm getting there. 
If you desire to add a few contrasts these two are perfect for you. The Sketch collection is built around two hand drawn prints in black & white.  A bold and graphic choice. There is also the Pink collection which bring together pink & teal in a fresh color combination. Each of these mini-collections offer coordinating cushions in Happy, Happy Frame and Tone on Tone styles. 
Did you like this article? Great because in the coming months DetailsbyMrK will add more colors and textures from LO Décor.  Keep updating!
Continue reading